Promising New Patient Recovery Science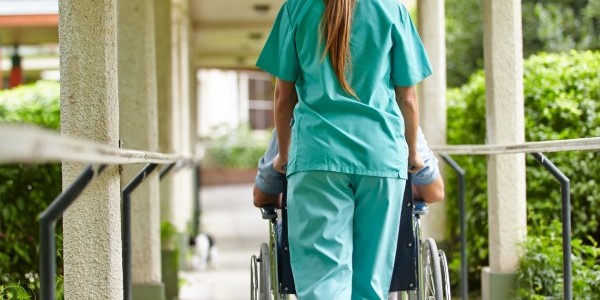 Once a patient reaches the hospital curb and gets in a vehicle, their world changes. They are outside "the service".  There are no longer nurses educating them on their conditions or how to treat them.  The interruptions to check vital signs are over as well the monitoring.  There is no one to discuss concerns, new conditions or difficulties.  Medication prescriptions must be filled and taken without reminders.  Seeing a physician now requires an appointment days or weeks in advance and arranging transportation.  That is unless they dial 911.
For the patients without care givers, it is even more difficult.  They may not have a ride to the physician office, supermarket, pharmacy or outpatient therapy.  They may have to eat non nutritional processed food or attempt activities that risk opening wounds or acerbating conditions.
80% of the factors attributed to health outcomes are from factors outside clinical care according to a Robert Woods Johnson Foundation study.  It is where most patient recovery occurs.  Patients being discharged from hospitals are not necessarily recovered.  It is often because they no longer have conditions that warrant reimbursement from insurers.  Some recovering patients qualify for a Skilled Nursing Facility, Home Health or Rehabilitation, yet their recovery will likely continue long after receiving these services.  Services typically end when medical justification for reimbursement ends, rather than when the patient is recovered.
The good news is that the science of patient recovery outside the hospital, post-acute care facilities and physician offices is promising.  We know how to do it.  While big data, emerging technology and innovative recovery protocols have yet to tap the potential of patient recovery science, we already have compelling examples of what is possible:
Transitional Care Programs – These programs ensure coordination and continuity of health care once the patient leaves the hospital or Skilled Nursing Facility.  The program follows up with the patient over a period of time to ensure they have their prescriptions filled, physician appointments scheduled and questions answered.  Here are proven examples:
– VA Hospital uses low-cost Transitional Care to save $1,225 per patient by having nurse contact patients after leaving the hospital. 
– Parkland Hospital reduced 30-day re-admissions of Heart Failure patients by 31% by using predictive modeling to focus support resources.  The estimated savings to the hospital was $500,000 with no increase in staffing
– Mount Sinai Hospital reduced readmissions by 43% and emergency room visits by 54%, saving $1.6M in 6 months by using social workers to contact patients after they leave the hospital
Patient Recovery Programs – These are programs that focus on getting the patient recovered after they leave the hospital. They typically employ remote monitoring, patient navigators, care coordinators and recovery nurses.  Here are proven examples:
– Geisinger Health System was able to reduce readmissions by 19.5% within the first 30 days with a remote care monitoring program

– Centura Health was able to reduce readmissions by 62% for 3 conditions saving $1,000-$1,500 per patient with remote patient monitoring

–  Partners Healthcare found a 50% reduction in Heart Failure readmissions and 44% reduction in non-heart failure readmissions by using a home telehealth program. It cost $1,500 per patient, reduced readmission costs by $9,655 for a total net savings of $8,155 per patient.
"Super Utilizers" Programs – The average healthcare cost for the top 1% of the United States population is $87,570 per year.  A 25% reduction in the cost of treating these patients would result in savings of $65B per year.  These programs sit down with the patient and learn how to help them get their chronic conditions stable, improve their quality of life and dramatically reduce their healthcare spending.
–  Medicare was able $1,248 to $2,168 per patient in annual savings using the Health Buddy program of telehealth & care management.
– Dr. Jeffrey Brenner was able to reduce the total healthcare costs of 36 "super-utilizers" from $1.2M per month to $500K per month with a team of social workers, nurses, community health workers and health "coaches".
– St. Charles Medical Center in Bend, OR was able to reduce ER visits within the cohort of 144 patients by 49% generating $1.6M in savings in just 6 months.  They provided the necessary non-clinical services to patients that visited the hospital more than 10 times per year.
The new reimbursement models being piloted will require providers to understand the patient recovery science that is outside their four walls. The new reimbursement models include a single episode payment that includes the hospital stay and all services within 90 days and population models that pay for all of a person's care over 365 days. Clinical care will begin to evolve from "the service" to "patient recovery".